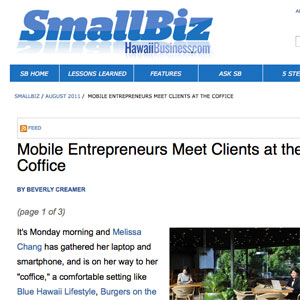 This is an interesting article in Hawaii Business about how small businesses can benefit by not having a physical office, but instead, meeting at places like Starbucks or going to to a client's home or business.
Of course, this may not work in certain industries, but many Hawaii business owners choose to run their businesses like this to cut down on costs and put that money back into their businesses.
There are several case studies in this article and at the end, there is even a list of tips for mobile professionals.  One that we have seen time and time again is:
2. With a mobile "coffice" or working from home, you have to be your own tech support. Making sure you're familiar with your tech needs or who to call. "You have to be really comfortable with technology," Kitagawa says.
We do agree that you need to have someone to call, but you do not necessarily have to be "really comfortable with technology."  If you are a Real Estate Agent, you help people buy and sell homes.  That is what you are good at and that is what you should be concentrating on.  You can find other people to help you out in the areas that you are not so great at.
So if you are a mobile professional and maybe aren't totally comfortable with technology, feel free to contact us and let us know how we can solve your small business problem.  Maybe you need access to your home computer when you are on the road or you need a centralized phone solution or help setting up your email.  We can help you get comfortable with using these tools so you can concentrate on doing what you are good at.
I think you may be surprised how easy some of the new technology is to use.
Anyway, this is the article from Hawaii Business.  Yes, it explains what a "coffice" is…